Is Madden NFL 18 Franchise Mode Just Like You Wish?
How do you feel about the Franchise Mode in Madden 18? You know, I really have mixed feelings about Franchise Mode, I often play Connected Franchise Mode with my buddys, and I'm head coach of the Raiders, which really makes me excited in game.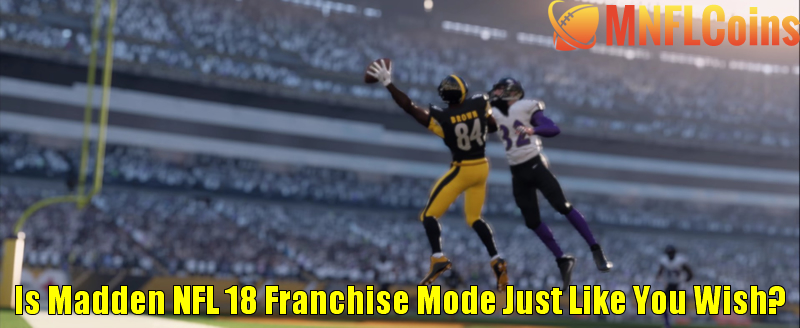 So far I'm 6-5-1 with 5 games going into overtime. Two of my losses came where I was driving to take the lead/tie it up and suddenly my passes end up nowhere near my target receiver. The other 3 came when the AI QB whom was completing less than 40% of their passes turns into the most accurate passer to ever grace the gridiron and easily drives down the field for the winning score.
I DO like that I actually lose games now. I DON'T like that every loss feels forced.
Overall though I'm pretty happy that it's easier to get madden 18 coins on Franchise Mode, at least I think so.
Makes me sick how much Madden 18 pushes MUT. Soon as I start the game MUT is thrown in my face. Would be nice if there was an "Are you interested in Ultimate Team?" option and if you select NO then you bypass all the pushing.
It totally ruins an otherwise fun game when my defender literally runs away the moment the QB throws the ball. I call the right defense and everyone is covered. How bout they program the CPU to run the QB or throw the ball away rather than making a completion when coverage was perfect. At least throw a "50/50" ball and make me believe the receiver made a play. But to see my defender just run away is just infuriating.
Honestly it has been very fun this year so far, granted we are only 10 weeks in ! I only have 2 issues and this is something we as commissioners need in order to run the league efficiently. One give us the option of locking rosters so people can't drop or sign someone.
You know, there was one Madden 18 Franchise Wishlist from me on MNFLCoins, and now I know that It would be really hard to make great progress in Madden 18 Franchise Mode, you need to pour everything you had into the game, then you could have chances to get enjoy more fun in Madden 18, that's intendment of this game!